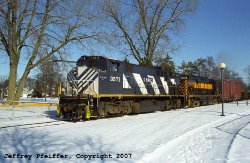 Welcome to the RRPictureArchives.NET contributor site of Jeffrey Pfeiffer.



Welcome to my railroad picture archive. The photos I have posted here were taken starting when I was 10 years old (1984), leading up to the present day. I got started with a certain N&W J-class locomotive in the early 1980s, though I was too young for photography during previous adventures with the Freedom Train, 2101, 614 and 6060. Photos in the period between 1992 and 2001 are more sparse, but several from 1996 and 1998 are present.

I am interested in short lines in general, and particularly those with unusual motive power. I like to seek out remaining early generation diesels still working in short line service. My first interest, however, has always been steam. I enjoy attending photo charters and steam excursions. Highlights over the years have included the June 1988 Rocky Mountain Railroad Club charter with 3985, the 611 and 1218 on Christiansburg grade in 1987 and the 2002 charter with 6325 and 1293 on the Ohio Central. I was also fortunate to see the K4 in steam during its short operating period in 1987.

All of my photos are scanned from the filmstrip or slide with a Nikon Coolscan V and resized to 72 dpi and 900 pixels width. They are presented full-frame from the original image, no cropping. Slide photos (these have a black border) are mostly Fuji Provia 100F, with some Kodachrome and Ektachrome. Older photos are mostly Kodak print film. Until 2003, all photos were taken with a Minolta X-370. From 2003-14, most are taken with a Nikon FM3a. Starting in 2015, all photos are taken with a Nikon D7100.



You may browse my collection of pictures via the menu located on the left hand side of the page. I hope you enjoy the collection and thanks for stopping by!